I am totally one of the many fans that got swept away by this fantastically fried potato-coated-with-whatever-coating-it-is. I've ordered one 2 weeks ago at a branch here in Paseo, they say it's only for a limited time so probably before it walks out McD's I'll order one. Luckily when I ordered I got just enough for what I paid for. Anyway, with the entire craze not all branches offer the same amount of twisties, I found a blogsite that posted an entry about it with evidence: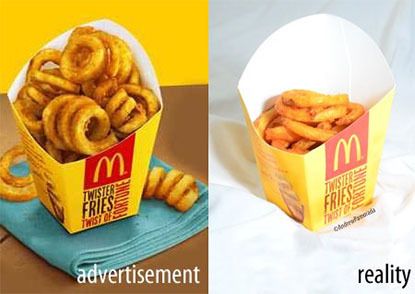 The picture above tells a lot about visual deceits used in advertising. It reminds me of a video explaining why the actual McDonald's burgers look different than the ones on the ads. You can read the article and view the video here.
But how can they explain the twister fries issue? The pic above is not the only proof of this. Check Twitter and you'll find many people complaining about how they were given a certain amount of fries fit for a five-year-old. We all know how a container of twister fries would contain, well, duh, twister fries. So why fool us into thinking that our 59 pesos would give us something like the product on the left side of the pic?